Ok so here's the thing. I love Karen Rose titles. A lot a lot. I spend the whole damn year looking forward to them. Seriously, the whole year. Even when I'm reading books by other authors, I'll wonder when another title of hers will come out... so when I saw she had a new novella coming out, I was pretty damn ecstatic (and that's putting it mildly).
I figured I'd get at least at least half a day with her well drawn out plot, her impossible not to love characters, and just an all around good read.So I bought it, for $2.99 knowing nothing about it, other than It was a novella.
The first thing I noticed? It's length: much shorter than I'd anticipated. Much, much, much shorter than I expected. I figured 150 nook book pages, sounds about right for a novella, even a Karen rose novella. That would be decent, no where near enough amount, because she's that awesome, but I'd be okay with that short of a story.
So yeah, Broken silence is 75 pages....75 pages okaaay.....then I read the story....and guess what, guess what? it's not even that, it's actually only 50 pages. 50 freaking pages. So I paid 3 bucks for 50 ebook pages? Seriously? What the freaking hell? Iirc her full novels go into the thousands of ebook pages, and for this novella, we don't even get half of that, or half of half of that, or even half of half of half of that! So I say again, what the freaking hell!
And Like I said I love Karen Rose, she's got characters I think about years after finishing one of her books, and stories that stay with you, and make other authors pale in comparison, and I like knowing that I'm supporting her career, and hopefully encouraging her to write more, but seriously? What the ever loving hell is this? $3 for 50 freaking pages? My ass. Can you say gypped? Gah! I'm so pissed off, i can't think of anything else to say!
Okay, wait, i should talk about the book: As far as the story goes, it's as good as a 50 page novella can be. Okay that's not true, it was written by Karen rose, ( did I mention I love her?!) so it's a lot better than a lot of other stories I've read from other authors. But it's short. And there's a lot of cut scenes...and the transfers from one scene to the next, IMO was sorta choppy. But it was a pretty okay story. And I loved seeing characters from her previous books. and that's pretty much it. It was sorta like a highly anticipated trip, one you've been planning for months and moths, only to finally go, and be crushingly disappointed.
Anyway, If you've never tried one of her books, keep in mind they're usually pretty gritty. Broken silence would be an okay place to get a taste of her writing ( though, there's very little of her customary gritt, IMO) but you'd be better off starting with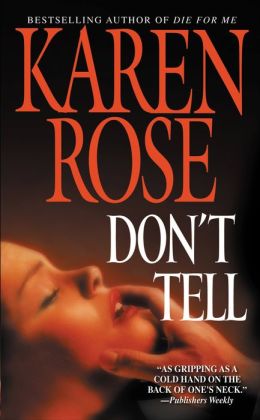 which IMO is actually worth the price!